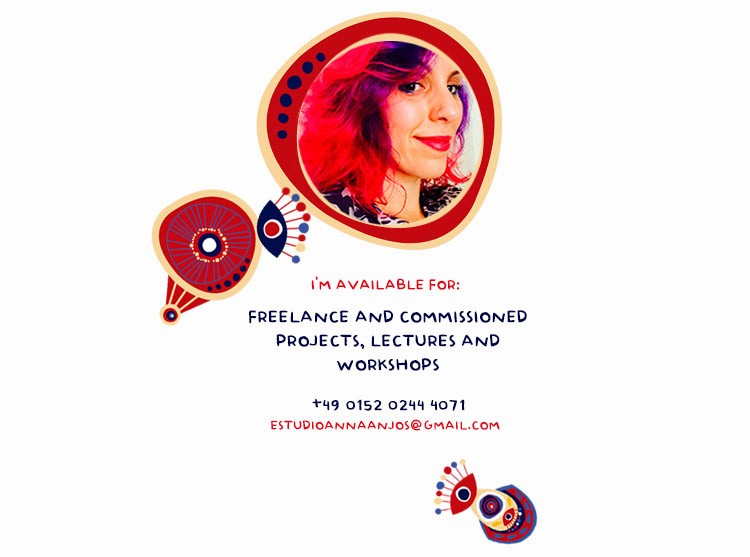 Hello! My name is Anna Anjos and I am an Italian-Brazilian freelance
 illustrator and a graphic designer based in Hamburg.
I work for a
dvertising, editorial, furniture, scenography, surface design, packaging and fashion (apparel). 
If you are a company/studio looking for a professional to develop a project, an art gallery interested to exhibit my work or if you would like to send me a message, please feel free to

mail me

.
Olá! Meu nome é Anna Anjos, sou ilustradora e designer gráfico freelancer e moro em Hamburgo.
Atuo para publicidade, editorial, mobiliário, cenografia, design de superfície, embalagem e moda (vestuário).
Se você é uma empresa/estúdio em busca de um profissional para desenvolver algum projeto, uma galeria interessada em expor meu trabalho ou se gostaria de me enviar alguma mensagem mande um email para:

estudioannaanjos@gmail.com
Hallo! Mein Name ist Anna Anjos und ich bin eine Italienische-Brasilianische 
Illustratorin und Grafikdesignerin. Ich lebe in Hamburg. 
Ich arbeite für Werbung, Verpackungen, Bühnengestaltung und Mode (Kleidung).
Falls Sie eine Firma/Studio sind auf der Suche nach einer Fachperson zur Ausführung eines Projektes, eine Galerie interessiert an der Austellung meiner Arbeit sind, oder wenn Sie mir einfach eine Nachricht schicken wollen, senden Sie mir eine

email

.
Download PDF Portfolio (EN/PT/DE)